4K Live Streaming with vMix
At vMix we've always pushed the boundaries of live streaming. We've supported 4K for many years now and believe that by pushing the limits of live streaming we're able to plot new territory for those willing to follow! In doing so, we've provided a platform that not only excels in HD but prepares users for a 4K future. You can create real-world end to end 4K workflows using uncompressed 4K camera signal through baseband ingestion, 4K video files and graphics.
Quality Does Matter
Live streaming has ofter been considered an after thought by many in the broadcast industry. As live streaming becomes THE medium for content, vMix allows you to create the highest possible quality for your viewers. Too many times we've heard '720 is all you need for streaming', but that's simply not the case. Most people have Full HD monitors and TVs so don't short change those viewers with lower resolutions! If you've got the capability to do high quality, then rewards your viewers with the best viewing experience possible!
Be Ahead of The Curve and Future Proof Your Workflow!
Everyone is always looking to be ahead of the curve and set their production apart! What says that more than LIVE 4K production and streaming! Looking for an edge over your competitors? Nothing says that quite like offering 4X the quality of their streams!
4K Offers So Many Options!
Maybe you don't need to stream in 4K because you don't have the bandwidth. vMix allows you produce and record your content in 4K and perhaps only stream in HD. This gives you a 4K edit of your production that you can then use for VOD or distribution. You could even choose to use 4K cameras and create multiple HD shots from each one.
Create Your Own High End Production Machine
We have now added a new system to our Reference PC page that will allow for high end production, including 4K. You can follow the specifications yourself or have one of our helpful Resellers build and install one for you and also offer premium support.
vMix Fun Time Live Show in 4K 60p!
Live Streaming in 4K to YouTube
With the release of vMix 20 and new performance enhancements, vMix decided to put vMix to the test! It was decided that the vMix Fun Time Live Show for October would be done in 4k60p!
Preparation
Since adding the new High Performance Mode in vMix 20, we had been talking of 4K 60p for a live stream. It's been a busy year, but we managed to fit in a live show for October and attempt 4K60. Unfortunately that meant we had to start from scratch.
Typically all of our content is 1080 30p, which means that we had to get new intros, outros, titles, and graphics for the new resolution. Surprisingly there isn't a lot of 4K 60p stock video footage out there! We ended up having to shoot some of our own and prepare the rest of the graphics for our titling, setup image and photo slideshow. We also had to make sure that we had the right camera equipment and capture. We already had 2 4K60 capable cameras but unfortuntely our newest addition Panasonic decided to stop outputting 4k60 for some reason. We spent a week testing it, but with no luck, so we needed an emergency 4K60 capable camera. Thankfully we were due for a DSLR upgrade and the new GH5 supports 4K 60 output! Crisis averted.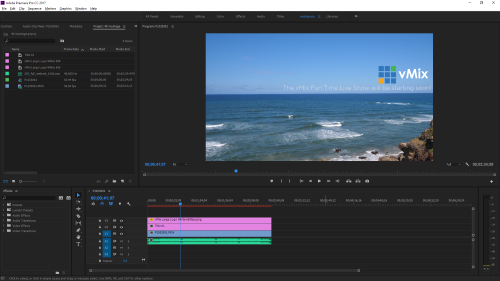 The 4K Live Streaming Setup!
The setup for the show was exactly the same as our normal monthly live show...except the fact that it was in 4K 60. No major difference right? Well after we created all of the assets and made sure that we had enough cameras, we got to setting up the show. All of the assests were loaded onto the Studio PC and then we created all of the shortcuts and triggers on the X-Keys 124 T-bar. There were fewer videos than usual, just because we couldn't bothered making and rendering 4K 60 video files!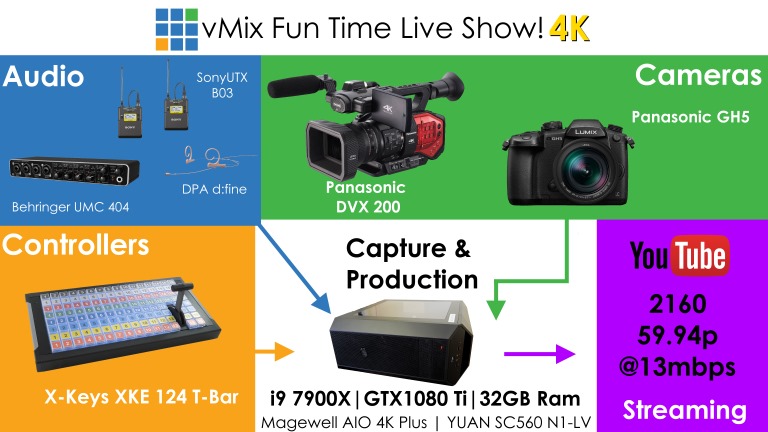 Our Studio PC is running this configuration-
Gigabyte X299 AORUS Gaming 7 MoBo
Intel Core i9 7900X
Gigabyte GeForce GTX 1080 Ti OC 11gb
Samsung 960 EVO M.2 1TB SSD
32 GB Ram
Magewell Pro Capture AIO 4K Plus
YUAN SC560 N1-LV
Cameras
Panasonic DVX200
Panasonic GH5
Audio
Sony UTX B03
DPA d:fine
Behringer UMC 404
We used an X-Keys 124 T-bar for controlling the show and we streamed to YouTube at 4K60p.
The entire show was produced on 1 PC which meant-
The show was produced live on air by 1 person!
The show was recorded to the local m.2 SSD drive as an MP4 @ 75MB
The show was streamed to YouTube at 2160 59.94P @ 13mbps
Once completed the show was uploaded to YouTube. After a few hours of uploading and processing, the full 4K 60P production can be viewed on our YouTube channel...or right here-
The Verdict
Admittedly we were a little nervous about the whole process. We had tested the whole scenario at length and were confident in the setup, but there's always some excitement around testing something LIVE! Everything went off without any issues. We were able to produce, record and stream in 4K 60 from our Studio PC. There were 2 cameras in use, 4 video files, 2 PNGs, 3 titles and a photo slideshow. These assests were more than enough for us to create the same show that we normally do when we are just streaming at 1080 30p.
The 4K 60p test was a bleeding edge test of vMix is capable of doing with the latest off the shelf PC parts. We would recommend that if you were currently looking to do 4K production, that using 25/30p would be the best way to go for now. We look forward to advancements in computing that will hopefully see everyone with the ability to not only watch more 4K content but to create it!
Here's a Behind The Scenes Look At The Show